Racing is in motion for BVI Sailing Festival with Round Tortola Race for Nanny Cay Cup. The White horses stippled Sir Francis Drake Channel as the ardent trade winds gave magnificent conditions for the thirty five participating yachts.
At the beginning off Nanny Cay, the yachts catered to windward, bringing the lifts from southern shore before checking sheets at Beef Island. Adjusting downwind sails for the long reach with the magnificent northern shore the fleet got a taste of Atlantic; dwelling on ocean waves, and making it Plain Sailing.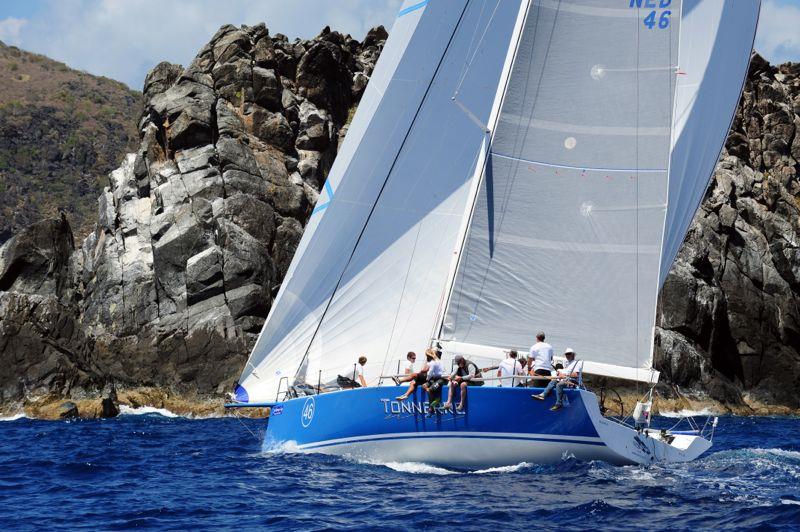 Andy Green, America's Cup helmsman and the owner of a yacht charter in Southampton, said that it was a great course with a bit of everything. They had fifteen to seventeen knots at the beginning of which passed off a little on the north side of the island, but it was a bit puffy, so there was a lot to work with. Near the end, the narrow gap at the West End offers an interesting twist before the beat to finish.
The eleven yachts in CSA Racing had a greatly competitive start, with 3 high performance yachts battling for Committee Boat end. Tortolan Sam Talbot, captain of J/111, Spike was downwind boat and it was keeping clear to upwind was Steve & Heidi Benjamin's American Carkeek 40, Spookie. German Carkeek 47 of Stefan Jentzsch, Black Pearl was crushing Spookie up towards the line, battling for clear air, but had little space below to strip away as well as speed into the lead on the favored island shore.
Peter Holmberg, America's Cup winner, was racing on home waters, promising tactics on Spookie. It was a great course and it was also very challenging; going uphill at the beginning with the present as well as the whole backside of the island has a lot of shadows.